BONDRE Microfiber Cleaning Towel Set With PVC Box

BONDRE Microfiber Cleaning Towel Set With PVC Box is with nice pvc boxes of 4 different colors of kitchen towel, size 30*30cm -- basic standard size for the hands which is just suitable and easy to use, especially housewifes. In daily home cleaning, washing dishes, clean tables, wipes the kitchenwares and other funitures are comsuming lot of our time, especially for some strong dirties, have to clean it again and again. Now, with our microfiber cleaning towels, you will find it much easier and quicker, it is soft and water absorbent, to wipe the tables and dry it automatically, clean and polish the furnitures at the same time, clean and dry the floor at one time working... Microfiber towel is much more strong and long durable compared with the cotton towels, you can use 3 times longer than the cotton towels because it is fast drying, and will not get mouldy-- always stays in good condition after many wahses. The set has 4 pieces for you for different purposes, such as one for windows, one for furnitures, one for dishes washing, one for moisture drying...in this way, cleaning is more healthy and functioned. Microfiber Cleaning Towel can be used to wash the oily dishes and plates after eating with less detergent, clean your house without lint nor odds after washes.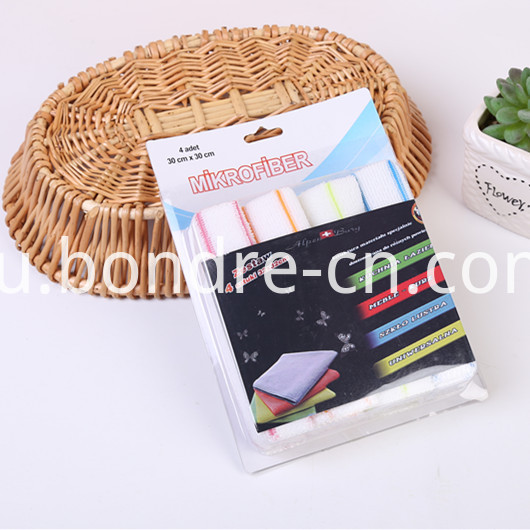 BONDRE House Clean Small Microfiber Towels and cleaning cloth is easy to use, please refer to the details following. More Usage Suggestions:
- Dusting remove (use it dry only its good enough);

- Mirrors and glasses and windows shinning (half wet to wipe down the glass and follow up with the dry to complete);

- Electronic screens cleanse (use it dry );
- Stainless steel polish (clean with a wet one and follow up with a dry one);
- Wood floors clean (can fit the mops and use dry ones for dusting and wet ones for mopping);- Soaking up spilled water;
- cleaning cabinetry;
- washing the cars;
More suggestion for care:

- To maintain the microfiber cloth or towel cleaning efficiency, we suggest to wash it separately in cold water (when washed with other clothes they might pick up and hold the lint from other clothes, which will be a hassle to get off);

-Please do not use softener, no bleach no tumble;

- please dry them with low heat or hang it dry naturally.
Группа Продуктов : Микрофибры Полотенца > Микрофибры Полотенца Для Чистки